Staff
Meet the experienced and friendly doctors and staff who make Hawthorne Vision Center the leading provider of vision care products and services in Portland.
---
Sunny | Practice Manager
Sunny graduated from Santa Clara with her bachelors in Economics. Her 15+ years experience span from Human Resources to analytical functions in large healthcare organizations to private practice management. Sunny has been with Hawthorne Vision since 2013 and strives to create a family-focused and friendly environment for our patients and staff.
---
Crystal | Assistant Manager
Crystal has been with Hawthorne for over 2 years now and comes with over 10 years of experience in the optical field. Even though she has been here for just a few years she has experience in every position and can answer all of your questions. She is a classic extrovert and thrives off making a personal connection with you. Crystal is hard working and loves to stay busy while being a positive energy around the office.
She enjoys the outdoors including hiking, quading and camping with her beautiful young daughter and husband. You will rarely see her without a smile on her face.
---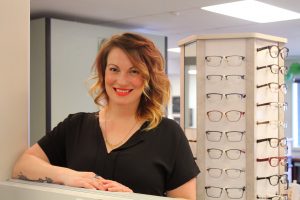 Nina | Optician/Frame Buyer
Nina has worked as an optician in several cities but is a Portland native. She believes that a frame is a personal reflection of style and with over 15 years experience she loves helping people find their new look. Just ask to see her Pinterest board of optical fashion! She takes pride in the precise and detailed work that is required of an optician. When not at work, you will find her hiking and swimming with her giant rescue pooch and planning her next adventure to travel the world.
---
Matt | Optician
Matthew is a native Oregonian born in Albany. He started in the optical field in 2013 and enjoys all areas of patient care including helping with your glasses or getting patients prepped for the doctor. Outside of work, he enjoy movies, the occasional video game, sports are a big part of his life. Make sure to chat about your favorite team if you get the opportunity to work with Matthew.
---
Kassandra | Optician
As the newest member to the Hawthorne Vision Center family, Kassandra comes to us with 3 years of experience in the optical field. She has worked in customer service for 10+ years but has fallen in love with all things optical. She is often smiling and sharing her bubbly personality with everyone she meets. In her spare time she enjoys baking, hiking, and going on adventures as a newlywed with her husband and family. Kassy plans on taking the ABO certification at the next opportunity and loves learning from the more seasoned team at Hawthorne.
---
Alena | Billing Specialist
Alena is the newest member to Hawthorne Vision's technician team. She comes to us from Seattle with years of experience in the optometry field where she also worked as a technician. Alena enjoys drinking coffee, spending time with her family and outdoor activities.
---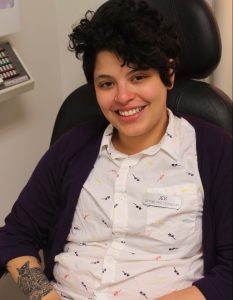 Jes | Technician/Front Desk
Jes has been with Hawthorne Vision since 2013 as a technician and more recently, a budding optician. She loves making patients feel at ease with her friendliness and humor, knowing all too well the nervousness that may arise when sitting in the "big black chair." When not in the office, she is painting, exploring outdoors, taking photos, or making music all with her sidekick kitty, Taps.
---
Mary | Front Desk/Insurance Specialist
A Portland native, born and raised. Mary has over 16 years medical office experience from receptionist to billing with a degree in Community Health. She has two teenagers and when not working, she enjoys cooking, spending time with her two dobermans, camping and hiking with her husband.
---
Kaitlyn | Front Desk
Kaitlyn is always here to greet you with a smile while answering your questions and scheduling your appointments. She is currently studying at PCC. When she is not checking in patients or prepping charts, Kaitlyn loves trips to the beach, portrait photography and decorating her first apartment.
---
Minh | Technician
Minh is a recent graduate from Oregon State University and aspires to become an Optometrist one day. He is excited to learn all the tricks and trade of the field. On his off time, he enjoys cooking, drawing, playing video games and the outdoors.
---
John | Bookkeeper
John helps us with our payroll and accounts payable.