Doctors
Meet the experienced and friendly doctors who make Hawthorne Vision Center the leading provider of vision care products and services in Portland.
---
Dr. Rebecca Uhlig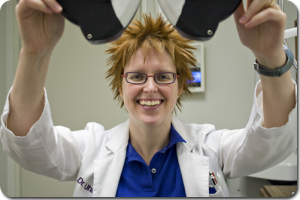 Dr. Rebecca Uhlig is our in-house expert on eye diseases. After earning her Doctorate in Optometry from Ohio State University, Dr. Uhlig concentrated on detection and treatment of eye disease through post-graduate training in referral-only specialty clinics. She completed a residency in ocular disease at Cincinnati Eye Institute and worked in the Department of Ophthalmology at The Ohio State University Medical School. Her extensive experience in treating glaucoma, dry eyes, and other ocular pathology has allowed Hawthorne Vision Center to take our eye-health care to a higher level. A former English major, Dr. Uhlig strives for clear communication in order to develop a good patient-doctor relationship. Her friendly manner and refusal to use big "$20 academic words" when explaining concepts helps encourage her patients to feel comfortable discussing their concerns and personal visual needs. As a transplant to Oregon, she appreciates hearing about special places to visit or hike in the Pacific Northwest. She and her husband traded in their motorcycle for a baby several years ago, and are looking forward to going hiking & camping with the now-toddler, interspersed with quiet time at home with the cats when the toddler sleeps!
---
Dr. Alan Love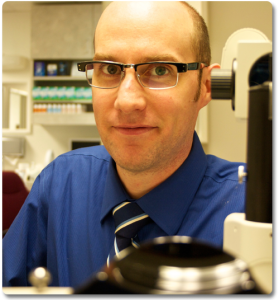 Dr. Love's specialties include pediatrics, vision related learning disorders, and maximizing binocular vision. His relaxed attitude and quick wit put all his patients, young and not so young, at ease. Dr. Love comes to us from northern California, but spent some time on the East Coast earning his optometry degree at the New England College of Optometry in Boston, MA. His interest in the visual issues that affect children led him to additional training with a pediatrics and vision therapy residency program at Pacific University. Dr. Love hopes to earn status as a native Oregonian by volunteering at vision screenings with the Special Olympics of Oregon and participating in Lions Club events throughout the state. In addition, he enjoys providing free eye care on several trips to low-income areas of Mexico. And yes, that's his real name! Dr. Love is also an avid bicycle commuter. If you come to your appointment by bike, feel free to lock it up to Dr. Love's bike parked in the back lot of the office, under the covered lot around the corner on 48th, or in the bike lot across the street at Por que No. Dr. Love is accepting new patients and is available for appointments Wednesday, Thursday, and Friday all day, and Saturdays.
---
Dr. Owen McIlhattan
Dr. McIlhattan treats the entire gamut of primary eye care, from glasses to glaucoma and contact lenses to conjunctivitis (pink eye.) A lifelong northwesterner he has lived continually in and around the Portland metro area since the 1980s. He is a graduate of Portland State University and got his optometry degree from Pacific University College of Optometry in Forest Grove Oregon. He and his wife and daughter love to spend their time camping, biking and eating their way around the wilds of the metro area.